TURTLEBACK COWORKING
Where working together is working
.
Turtleback coworking is both a community center for collaborating and a relaxed, professional workspace, we're combining a pioneering spirit with access to entrepreneurship and education—all in the heart of Truth or Consequences, New Mexico.
Working independently, together
.
Our space is designed to provide an environment where members can work, connect, and collaborate. We offer every setting needed to be successful, including a private office, meeting spaces, conference room and more. Our friendly members are successful entrepreneurs, freelancers and startups of all sizes. When you join Turtleback coworking, you join a tight-knit community that inspires and supports one another.
Coworking Membership
Access to our coworking spaces by the day or for 5, 10, or unlimited days a month.
Dedicated Desk
A desk reserved for you in a shared office or open-plan workspace.
Location Details
Work with others to grow your business
.
We're invested in our community, occupying a strategic space at 400 N Broadway St Truth or Consequences, NM. This combo of a strategic location and our carefully designed spaces make TBC a perfect fit for freelancers, creatives, businesses, and teams that want to be productive.
Access to business services
Clean and well maintained space
Join our mission to transform the workplace
.
From daily drop-in plans to different coworking packages, dedicated office plans, and more, we've designed and delivered a welcoming and relaxing environment to cater to your on-demand workplace needs.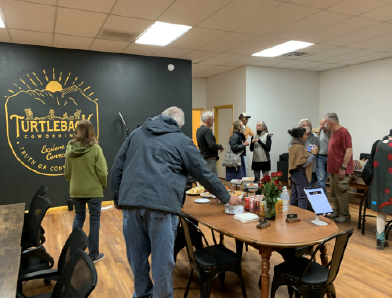 Work when it works for you, and save money while you're at it with four different membership plans. Fast, reliable WiFi, soundproof phone booths, conference room access and free admission to events are just a few perks of membership.
Recommended for: local remote workers who need a change or scenery, local businesses and frequent visitors.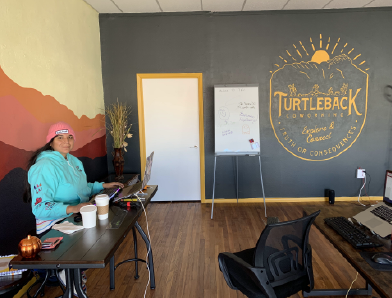 Drop In For a Day
Find a comfy space to work and make new friends, while you're away from home. We've saved a place for you, with no commitment necessary. For only $30, you can drop in for the day when that AirBnB WiFi isn't quite cutting it.
Recommended for: digital nomads, on-the-road professionals..
More Ways To Enjoy Turtleback Coworking
Use a full-service office and rent fully-equipped conference rooms.Meet other local doers and collaborate on new ideas.Access education in entrepreneurship, business, yoga and more.Got a skill to share? Get in touch and use our space.
Our team member
With a formidable team behind the community, we're able to push through all of the challenges that come our way as we strive to deliver the inspiring experiences within our spaces.
Bogdan Krivenchenko
Co-Founder & CEO
Artem Kyznetsov
Design Lead
Sergey Filatov
Social Engineering
Alpamys Moldashev
Brand Designer
More ways to work
.
Need an inspiring environment for productive work? Searching for a welcoming atmosphere to network with like-minded professionals? Turtleback Coworking offers everything and more!
Office Rental
Flexible office spaces designed to help keep your business running at a stunning pace.
Coworking
Be part of a vibrant coworking community with dedicated desk or hot desking options.
Virtual Offices
Build an instant presence wherever you need to be, at prime business locations.
Membership
Flexible membership plans for every budget and work schedules!
Meeting Rooms
Thoughtfully designed meeting areas suitable for a meet and greet, educational programs, Zoom calls etc.